Welcome to Dahuez!
It all started with one quest. The quest to make this world a beautiful place!
Ever thought, why the beautiful photographs clicked by so many talented photographers around the world should get limited to either Art galleries or to digital world only? What if we can bring them to the real world and make life beautiful, literally! That's how was born "Dahuez".
Dahuez is an amalgamation of wonderfully captured photographs that make any place look beautiful. We take a lot of pain and pride to shortlist the best photographs of the lot. We have endless discussions to agree or disagree on what to showcase on Dahuez. The only criteria to choose photographs isn't that it should look good but it should look great in any Décor. Infact, even if a photograph is brilliantly captured but if it may not add to room's beauty, we shoot it down. That's how we enrich Dahuez Gallery.
At Dahuez, we believe that every home speaks a language & so should the beautiful photographs on walls of every home. Choose from multiple photographs clicked by various photographers on board Dahuez. Rest we will take care of. We will get these photographs delivered at your doorstep.
Come with us. Give photography a fair chance to make this world a beautiful place to live. If you have any queries or suggestions, please feel free to get in touch with us at hue.connect@gmail.com.
Team Dahuez
---
About Founder- Tanushree Gandhi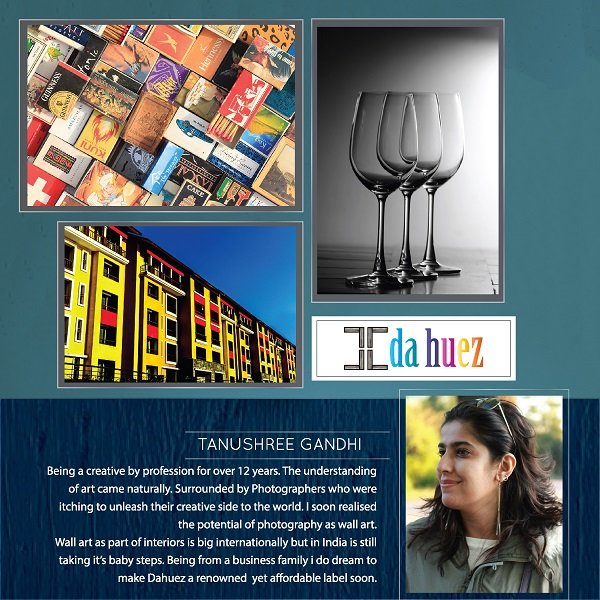 Our Photographers on-board